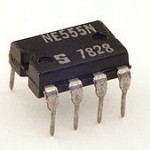 Here is a quick and very simple way to calculate all linear component specifications of a LM 555 type timer IC chip based astable oscillator electronic circuit. This will give you resulting frequencies and pulse width for different resistor and capacitor values arranged in the provided classic circuit diagram.
You can enter your own values in the provided on-line form / spreadsheet hereunder, and all frequency and pulse-width calculations are made automatically for you based on the LM555 integrated circuit specifications. You can also download the LM 555 calculation spreadsheet.
Different unit magnitudes can be used for your convenience (ohm, kilo-ohm, farads, micro, nano-farads,…). Results can also be displayed with different units (use drop-down lists).
All values in dark red color can be user-changed.
Zoho Sheet Interactive version:
Google Docs Non interactive version:
Downloadable version:
Download the LM 555 oscillator circuit calculation spreadsheet in OpenOffice .ods format.
Frequency calculation is based on this formula: f = 1.44 / ( ( R1 + 2 * R2 ) * C )
Pulse width calculation formula: W = 0.693 * ( R1 + R2 ) * C
Filling ratio formula: D = ( R1 + R2 ) / ( R1 + 2 * R2 )
This circuit schematic will be used in an upcoming DIY project for creating a tempo clock / metronome for driving an analog sequencer and synchronizing legacy rhythm boxes.
Other "musical" applications of this type of LM555 timer based circuit:
A 440 Hz reference tuning tone (middle A) frequency fixed square-pulse oscillator can be obtained with the following values:
R1 = 100 Ω
R2 = 16.3 kΩ
C1 = 100 nF
(connect output to a speaker or amp to hear the tone)
A variable tempo analog metronome timer clock can be obtained with the following values:
R1 = 470 Ω
R2 = 2.2 kΩ + variable 0 to 1 MΩ resistor potentiometer (poti)
C1 = 1 µF
(this will give you tempos ranging from approx. 40 to 300 BPM)
With a +5V DC powered circuit, the output clock signal can be used directly to trigger legacy rhythm boxes (such as the Roland/Boss DR line, like the DR-220A through their "trig in" mini-jack port), old samplers, or rhythmically drive analog synthesizers / sequencers / arpegiators through their "gate in" jack input (I use a dirt-cheap modified Korg Monotron to experiment).
Be aware that this being analogue type circuitry design, the actual frequencies and tempos will vary (drift) depending on running conditions, heat, etc. This is the exact point of building such analog DIY circuits: some find them far more musical, natural-sounding and inspirational than boring, rigidly accurate digital setups! And they are usually far more intuitive, easy and fun to tweak, even for complete newbies.
Useful links: