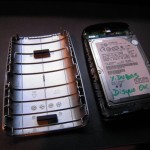 I recently took a apart my Verbatim external USB 2 hard drive unit to find out what kind of hard drive and components where hosted inside. I found out a Hitachi Travelstar mini-SATA 2.5″ HDD and a nifty little mini-USB – to – SATA converter board inside a basic external drive enclosure. Here are the pictures.(You can click once or twice on all the pictures to enlarge them)
The Verbatim external hard drive chassis and plastic covers
All the chassis is built with clipped plastic covers. Gently pushing around the edges with a flat screwdriver releases the holding clips one by one.
Inside the Verbatim external HDD unit
Once open in two, the shell reveals the Hitachi Travelstar-type factory-fitted mini-SATA 2.5 inches hard disk drive (Complete specifications: Model: HTS541616J9SA00 / 5400 RPM / 5V / 700 mA DC / 160 GB SATA, Made in Thailand in November 2007 under P/N: 0A28844.) The exact same kind of hard drive is factory-fitted inside a lot of laptop computers, including the Sony VAIO VGN-NR10E. They can be successfully swapped. The inside of the plastic covers has small rubber pads to insulate somewhat from mechanical shocks or vibrations (my drive was dropped more than once on the floor without damage to the disk or data). The hard drive + controller board assembly is once again fitted with plastic holding clips. Once again, a flat screwdriver head is enough to disengage the assembly from the plastic chassis.
A small round sticker states "Warranty void if broken"… Oops, looks like I just voided my guarantee to disassemble the mini-USB 2 – to SATA conversion circuit board (first removing the two small holding screws with a small regular Phillips screwdriver, and then gently pushing the controller board away from the hard disk enclosure).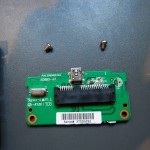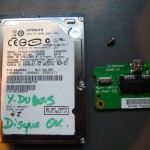 The USB mini-plug provides both data and power to the drive. Once taken apart, the converter board can be easily fitted on any other SATA hard drive (3.5″ or 2.5″), making for a very convenient one-fits-all USB hard drive attachment. (Be careful that bigger or faster hard drive may require too much power than can be supplied through a regular USB connection, especially if connected to a portable, laptop or notebook computer operating on battery with reduced power consumption parameters: failure to correctly spin-up the drive may result in data losses!).
Just two screws, two plastic covers, one Hitachi Hard disk drive and one USB 2 converter / SATA controller board. That's all that makes up the Verbatim external drive. Simple is beautiful.
Like fun DIY projects? Check out this article : DIY: Turn your computer into a free oscilloscope
Further reading :