Great news for all users of the very popular (70,000 downloads) legacy plugin for WordPress "YD Recent Posts Widgets with Thumbnails" that I developped in 2009 and maintained up to ca. 2011. This plugin now has an official, brand new successor known as "WP Frontpage News".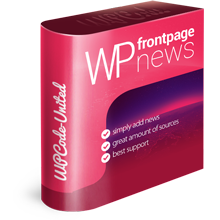 The new plugin is written by the same author (me), with the same purpose in mind as the original (easy-to-use, works out-of-the-box, powerful customization options). However, it is now fully compatible with the latest version of WordPress (3.6.1), and with state-of-the-art PHP 5.3 up to 5.5.
Furthermore, continued development, maintenance and technical support of this plugin is guaranteed as part of my teaming up with WordPress plugin support specialists WPCode-United (check out their other great plugins). A professional-grade support will be available, and a commercial "pro" add-on to the plugin with advanced features is now available. But everyone can continue to enjoy the great functionalities of WP Frontpage News for free. Check them out here, or just look at the screenshots to get a quick grasp of how it works and what it does. Enjoy!