YD Export2Email
Download it here on WordPress.org
Send any single post page as a html-formatted e-mail
This WordPress plugin installs a a new button visible to WP editors that can export e-mail compatible XML code of a single post.
The e-mail uses a specific theme as a template. You can choose between all available themes to create the e-mail content.
Content formating filters can be individually activated or de-activated to ensure proper e-mail formatting.
Generated stripped-down HTML or XML code can be pasted in all major e-mail clients (desktop or web-based) or mass-mailing software.
You can customize your own e-mail template to make sure your content is rendered the way you want in all e-mail readers.
Base package includes .pot file for translation of the interface, and English and French versions.
The plugin can be used to display text in any WordPress compatible language and charset.
This plugin has been tested an developed for both WordPress and WordPress MU. It is fully compatible with both.
Original development of this plugin has been paid for by Wellcom.fr. Please visit their site!
Screenshots and quick user guide
1 – Edit plugin options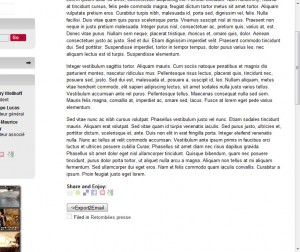 2 – The "Export2Email" button appears after a single post's content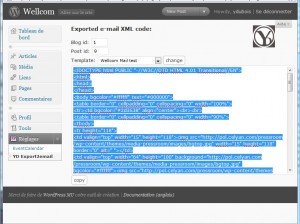 3- Clicking on the "Export2Email" button opens the code export window

4- The exported HTML code can be inserted into a Mozilla Thunderbird e-mail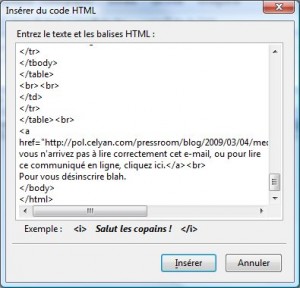 5- Just paste the code into Thunderbird's HTML insertion window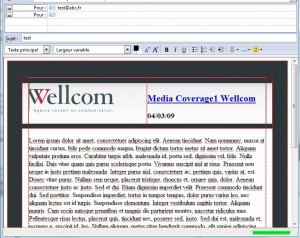 6- The HTML-formatted message is ready to be sent in Thunderbird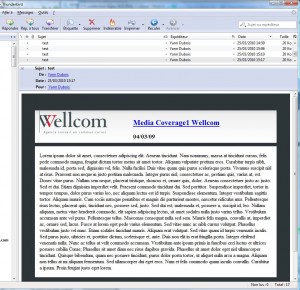 7 – Here is an example of what your WordPress original page content will look like when received in a nicely HTML-formatted e-mail.