YD Recent Posts Widget
Important notice : since October 2013, the YD Recent Posts Widget plugin has been officially replaced and superseded by the WP Frontpage News Plugin, available free on the WordPress plugin directory, here. (Official announcement here)
Support of the new plugin is available at WPCode-United. Including professional-level service.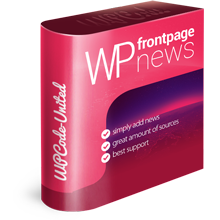 The FAQ Page of the old plugin is here (Frequently asked questions and their answers!)
The installation guide and usage manual of the old plugin is here.
Plugin Name: YD Recent Posts
Plugin URI: http://www.yann.com/en/wp-plugins/yd-recent-posts-widget
WordPress Plugin Directory: http://wordpress.org/extend/plugins/yd-recent-posts-widget/ → http://wordpress.org/plugins/wp-frontpage-news/
Description: This WordPress plugin installs a new sidebar widget that can display the recent posts with automatic thumbnail images. It is highly customizable allowing different settings on the home page and other blog pages. It uses cache to avoid multiple database query. It is fully internationalized.
Author: Yann Dubois
Version: 3.0.1  →Download YD Recent Posts Widget
New! →Download WP Frontpage News
Release date: 2009-03-08 2013-10-06
Last updated: 2010-08-17 (3.0.1)
Tested with: WordPress 2.3.2 to WordPress 3.0.1 WordPress 3.2 to WordPress 3.6.1
Should be compatible with: WordPress 2.x and above, WordPress 3.x and above
Installation: unzip into your plug-in directory, add widget, enjoy!
Used on: http://www.yann.com (this blog) and many hundred others
Please feel free to report bugs, wishes and remarks by leaving a comment on this page.
Don't forget to clear the cache using the options page when you make options changes.
English and French version included since initial release
Russian version is included since 0.8.4 thanks to Marcis Gasuns a.k.a. FatCow.
Dutch version is included since 0.8.5 thanks to Rene @ Fethiye Hotels.
German version is included since 3.0.0 thanks to Rian @ Pangaea
If you want to contribute a translation, please drop me a line by e-mail or in the comments below. You will get due credits in the plugin file and on-line documentation, and a link to your site from this page and from WordPress.org.

Latest version 3.0.1 is out, it is fully compatible with WordPress 3 and includes native Timthumb support. It is a major release with a lot of new features and improvements. Comments dating back from earlier versions of the plugin have thus often become obsolete and have been archived in the older comments page. If you are researching a specific issue that is not addressed either in the FAQ page or in the comments of this page, you can try and search the older comments page.
Please check out the official FAQ page before posting a new comment/question
La version française de cette page permettant de poser des questions en français est ici.